WELLTOPIA'S DE-BLOAT PREMIUM MULTI STRAIN PROBIOTIC
Welltopia's De-Bloat Premium Multi-Strain Probiotic contains the specific strains of good bacteria your gut needs to stay balanced and healthy, ESPECIALLY during menopause.


This Probiotic Is Right For You If You...


Want an effective, simple solution that balances gut health

Bloating makes you feel sluggish and uncomfortable

Experience weight gain that nothing seems to be able to budge

Struggle with digestive issues like constipation or diarrhea

Are perimenopausal or menopausal

Want to be able to wear your favorite clothes again without feeling self-conscious

Wish you were full of energy and had the spring back in your step

Are interested in FAST relief from bloating - just 2-3 days!


De-Bloat Premium Multi-Strain Probiotic For Women provides the exact combination of probiotics strains that can:




Stops weight gain in its tracks


Balance the estrobolome in your gut

Relieve bloating and abdominal discomfort

Ease digestive issues and gas


Stop weight gain in its tracks
WHAT WOULD YOU GIVE TO BE ABLE TO WEAR YOUR FAVORITE CLOTHES AND FEEL LIKE YOURSELF AGAIN?

Imagine feeling more like YOU again as you zip up your old jeans.

No more bloating.

No more discomfort.

You just feel comfortable, confident and ready to tackle anything.

And it couldn't be easier.

All it takes is two capsules of De-Bloat Premium Multi-Strain Probiotic For Women a day!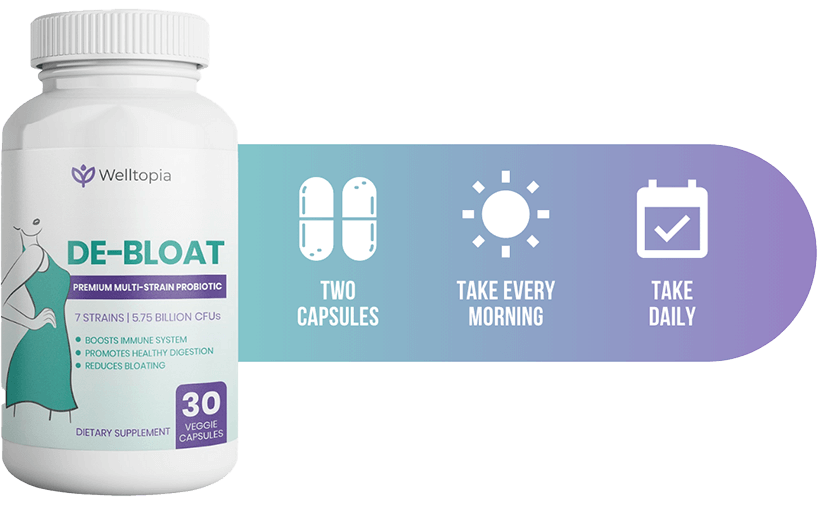 And with continued use, the probiotics in De-Bloat Premium Multi-Strain Probiotic For Women have even been shown to lead to weight loss!

You'll be able to enjoy your favorite foods again without worrying about bloating or digestive issues.

And a healthy, balanced gut and digestive health means a happier, healthier you!




My Belly Continued Getting Flatter And Flatter
I've been trying this product for 10 days and I'm glad I found this product because I was looking for something for bloating. And the reason why I really wanted to try this is because I was going to make a doctor's appointment to see why I was gaining some weight, extra weight in my midsection area. And then when I read this product I was like, maybe this could be good for me. So I started taking this, and let me tell you, on day three, oh my goodness, my belly started flattening out. And after those three days, it just continued getting flatter and flatter. I stopped having gas, all kinds of stuff like that. So, with that being said, it flattens your stomach, reduce bloating, stop tummy discomfort, and you feel more energized, have less gas, and you feel so much better like, it impacted me so much. I was getting ready to go the doctor, I'm telling you. I feel like, physically and emotionally, it had helped me. I recommend this product to females who may be fighting against bloating or if something's wrong with their midsection area, I recommend the De-Bloat.
I Have Energy, I Don't Feel So Heavy, My Pants Are Fitting!
I've been taking this for about 10 days, and it has helped SO much. There's a lot of foods that you used to be able to eat but, now, there's foods you eat like pizza, or a burger, or milkshake - and I get so bloated, and I feel like my food is (in my throat). So I'm like, okay, I need something that will help where I can just go on about my day and not feel so nasty and groggy and full because of what I ate.
I've been taking this and you take it once in the morning, 20 minutes before breakfast and... I've taken probiotics where my stomach is literally feeling like it's in knots, and I just feel nauseous and it just hurts... this is NOT one of those. When you take this, you take it with your regular multivitamins in the morning, take it with your coffee, whatever you do, when it's time to use the bathroom, you go regular. There's no backed up feeling, you know how like all these gas in your stomach from whatever you ate, whatever you drank, whatever... NONE of that.
I don't wake up with like this big 5-month belly anymore and I feel good! I don't feel so fatigued during the day, I feel like I have energy, I don't feel so heavy. My pants are fitting now! So definitely, definitely, definitely, I recommend this. I've only been taking it for 10 days BUT it has already made a difference. All that caffeine I thought I needed, no, I really just needed to get these stuff out of my belly, out of my digestive system so I don't feel so BLEH.
Not Bloating As Much, My Stomach Looked Flatter, My Skinny Jeans Fit!
After about 1 week of taking this, I noticed I wasn't bloating as much and I noticed this mostly in the evenings when it was always the worst. My stomach looked flatter, it didn't hurt, and I the first thing I tried was to get into my skinny jeans to see what would happen and guess what? They fit! By 8 days I was back out on the trails running and lifting weights at the gym. Hubby asked me what I was doing differently because he saw my new energy level and I told him! He was so happy for the me because he saw how much it was getting me down.
Menopause stinks. There's no doubt about it, but we can be proactive in maintaining our health by looking for solutions that work for us and De-bloat probiotic definitely worked for me!