"Kinda Reversed Me Back Into NOT
Being Peri-menopausal"
"My Night Sweats Are Gone
For 5-6 Weeks"
"Was Waking Up 3-4 Times…
Now I Sleep Through The Night"
"Hot Flashes At Night Have Decreased & My Quality of Sleep Has Improved"
"Makes Me More Livable
With For The Family"
"Within The First 7 Days,
I Felt A Tremendous Relief"
"It Did Everything I Needed It To Do"
"10 Blasting Hot Flashes... Down To 6"
"I Take Muscle Relaxers At Night… But I Had To Stop Because This Made Me Sleep So Well"
"Not Just For Sleep... This Also Helped With My Menopausal Symptoms"
"This Has Just Been A Life-Saver For Me!"
"I Actually Feel Like A Human Being Again!"
"I Noticed A Huge Difference With My Hot Flashes... I'm Sleeping A Little Better At Night"
"I Feel Like I Got Myself Back... I Feel Better And My Sleeping Habits Are A Lot Better"
"Those Nasty Horrible Symptoms Stopped"
"It Has Really Changed My Life!"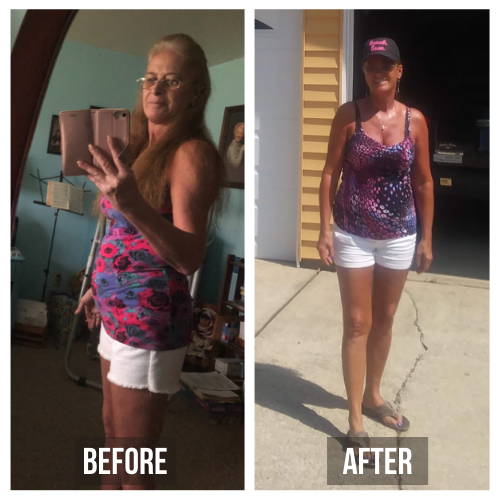 I Lost That 10 Lbs! I Was Shocked How Fast It Came Off!
"Before menoslim I had such a pouch in my belly. 6 months ago I was at the drs gained 10lbs because of pandemic. You just sit and eat. Nov 16, after my 14 day teatox I lost that 10 lbs! I was shocked how fast it came off! I weighed 130, now my new weight is 120. I am doing menoslim in the morning then I take 2 menopause pills with breakfast. Then at night I do menopause support. My husband is amazed!!! Ladies, I use 2 tbsp ACV with another 1 tablespoon unrefined raw honey in my tea, tastes great! This is my story. I continue to feel better each day. My first picture was July 2020, my second picture is November 26, 2020.. thanksgiving day!"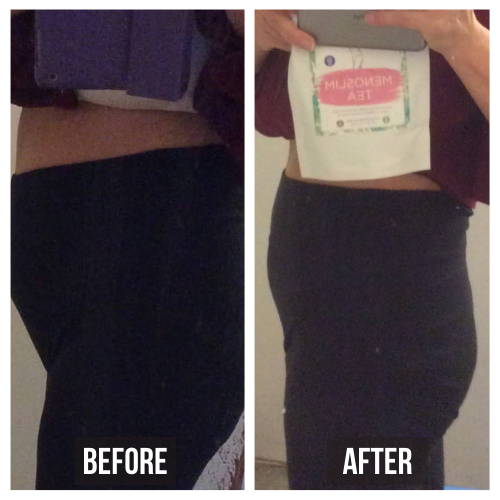 No More Hot Flashes Or Night Sweats. Bloating And Fat Decreased. MenoSlim Is A God-Send!
"I am excited to share my story with all the women out there suffering with menopause. I am 53 years old and my menopausal symptoms were unbearable for daily function. I found Welltopia and their TeaTox and MenoSlim. I was skeptical but I needed relief. The fact it was all-natural was key. I am happy to say it does exactly what it says it does. I have energy, no coffee needed. No more hot flashes or night sweats. Bloating and fat decreased. MenoSlim is a God-send! I recommend it!"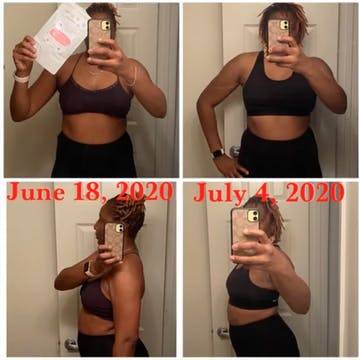 I Have Reached My Goal Weight
"I have no complaints. Everything that it says it's gonna do, it does do it. Has it helped greatly with my hot flashes? Has it helped greatly with my night sweats? Yes! I feel great. I can definitely see my weight loss. I have reached my goal weight. My fat back is not as bad as it used to because it used to be like three rolls."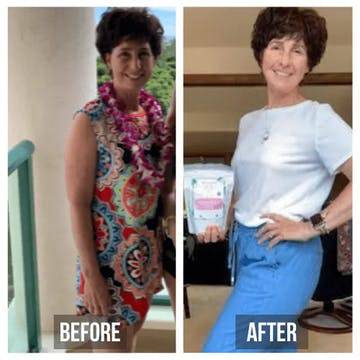 Healthy & Delicious Option For Bloating & Menopause Symptoms
"I am feeling so much better already. I was suffering from weight gain, especially around my abdomen area and I've always had a flat stomach prior to going through menopause. I was also suffering from hot flashes, mood swings, problems with low blood sugar, and low energy. I've noticed that my belly bloating is much better, as well as other symptoms. I'm excited to continue on this path and to continued health benefits. I am very thankful for this healthy and delicious option to help with the symptoms of menopause."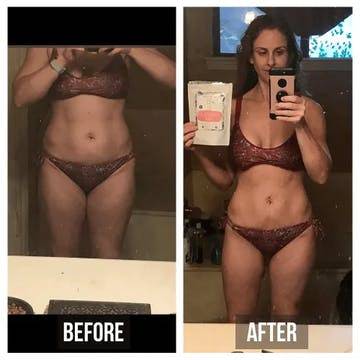 14 lbs In Just A Few Weeks!
"When I started drinking the Menoslim Tea, I noticed right away how it curbed my appetite. Then, I started to notice how my temperature was more normal. I wasn't going from being extremely cold to extremely hot all the time. It wasn't until my husband said you seem happier lately that I realized my moods were not all over the place. I also lost weight, not just a little weight either. I am continuing to lose weight too. My before picture was me at 147lbs. In my after photo I weigh 133. I had only taken the tea for a few weeks at that time. You can see the difference it made."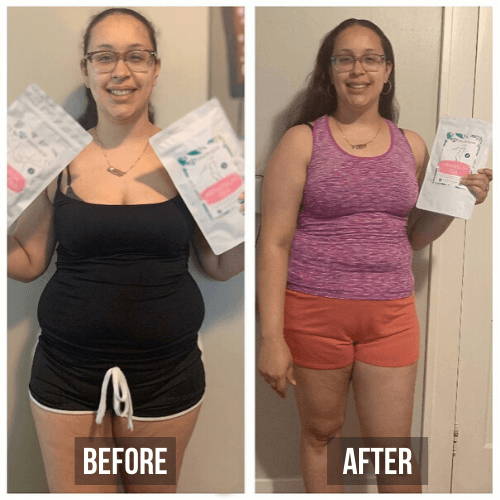 "I had crazy mood swings (beyond what you may believe) and I started drinking the MenoSlim detox/weight loss tea. It works! My muffin top in the photo shows it no doubt about it"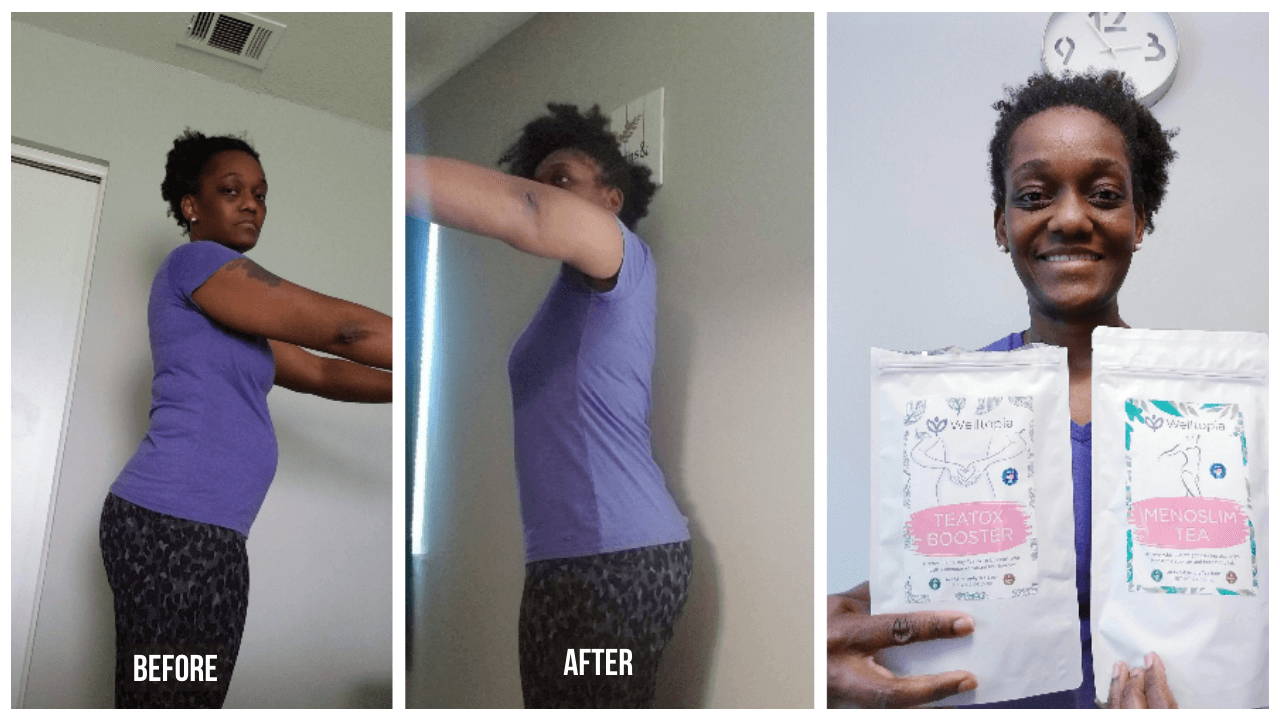 I Lost 10 Pounds! This Really Boost My Self-Esteem!
"It helped me a lot by first cleaning my system and stopping the bloating around my stomach area. Both teas taste great and I only used honey. I lost ten pounds! This really boosts my self-esteem and... overall I feel better. I am happy I found a tea that actually works and is natural."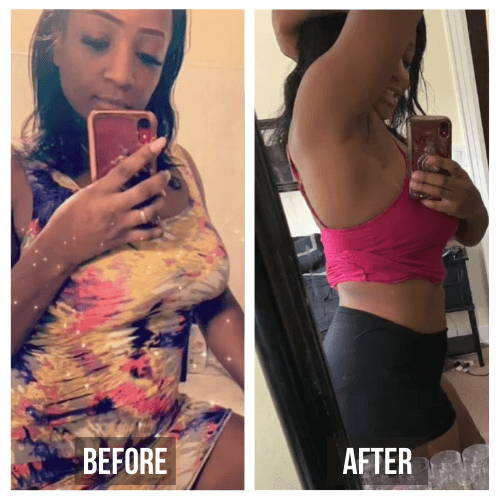 I Am Amazed How Flat My Tummy Has Gotten In Days
"I have been taking this for 14 days and I am amazed of how amazing the results are. This tea definitely helps with the bloating and I am amazed how flat my tummy has gotten in days🙏🏽😍😍😍😋 I feel way more alive than I have in the last two weeks before using this product... I actually wake up every morning looking forward to each sip of this wonderful delicious tea. The smell is so amazing but taste is to die for👌🏽😝🥰"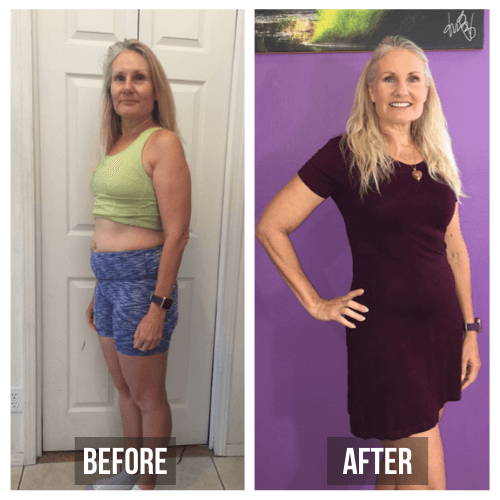 Bloating Has Reduced & I Feel Happy Again
"I'm feeling upbeat, my night sweats and hot flashes are gone. I sleep well through the night. This has definitely helped me with my menopausal symptoms. I've lost 2 pounds so far and this has reduced bloating."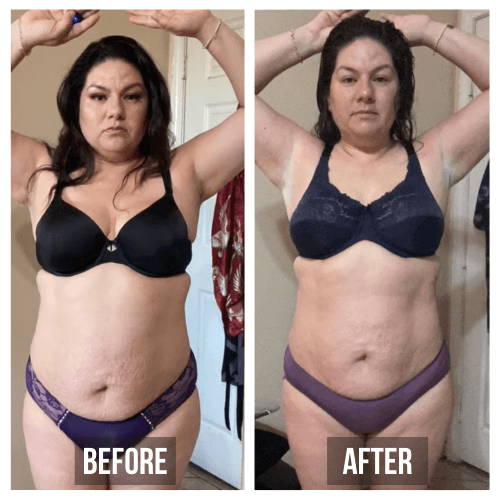 My Pants Fit Better, My Face Is Not As Puffy As It Was
"My pants fit better, my face is not as puffy as it was. I am perimenopausal and these helped me so much! One positive thing is I didn't have a hot flash... and no side effects. If you want to lose weight... Take it, you're gonna see the biggest difference."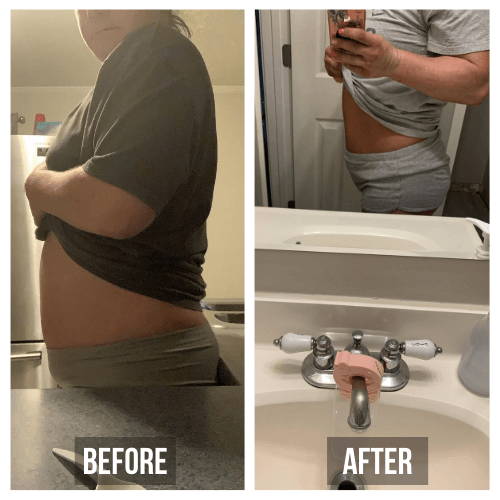 17 Pounds Lighter In Just 1 Month!
"I didn't notice the weight loss at first, it was my fiancé of 14 years who after two to three weeks, he kept saying I was losing weight. Then I went to the doctor for a check up and I was 17 pounds lighter in just a month! I recommend this to anyone who is wanting to lose weight and get rid of any menopausal symptoms!"
This Is Huge For Me! 3 Pounds In 2 Weeks. That Would Have Taken A Month Or More Previously!
"To say I'm thrilled with Menoslim tea is an understatement! I am now on day 15 of the Menoslim tea and have lost 3 pounds already. This is huge for me! 3 pounds in 2 weeks. That would have taken a month or more previously! My hot flashes have been decreased to less than one, mild flash daily, and I am sleeping better. I use the Menoslim tea as the liquid base to my morning shake. It's easy and delicious! I am so thankful for these products!"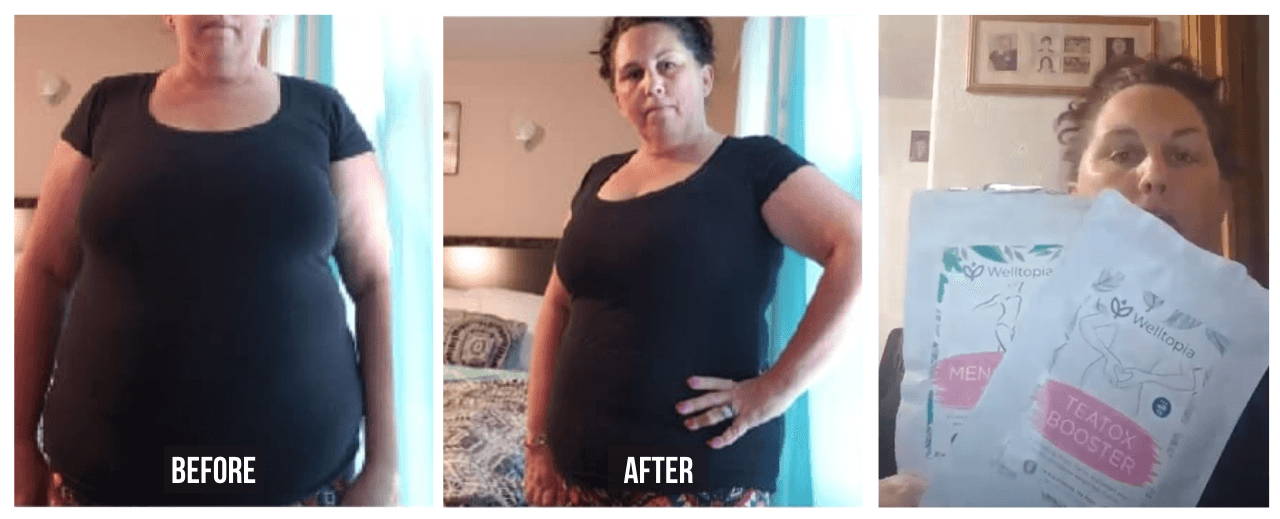 I Lost 10 Pounds! This Really Boost My Self-Esteem!
"For menopausal weight gain, this worked! The taste was great. The best bonus for me? No interactions with my meds. I also wasn't jacked up all day. The teatox did not hit in the middle of the night, nor was it harsh on my system. My weight loss was altogether 11 lbs. Between Fibromyalgia and a pituitiary problem, weight loss is hard for me. I am so thankful for the tea that I love and it works. "